Laser Cutting Machine for Tent, Awning, Canopy
Many customers that use Golden Laser machine for making tent, parachute, sailcloth, wrap graphics, banners, inflatables, etc. The biggest advantage of laser cutting for this application is: laser can seal the edge of the fabric automatically, no fraying. Help you realize all kinds of design.
For the outdoor application, we have different machine working table size such as 2100mm*6000mm (82'' * 236'') / 3200mm*8000mm (125'' * 314'') and we also have 10 meters long machine for option. Also we have different laser power such as 150W / 275W and etc. And we also have vision / camera system for option, if customer needs to cut any print contour or patterns.
Laser Cutting Machine Features
● Over-large format flatbed laser cutting machine with the stable patented rainbow structure.
● Automation. Auto feeding system, vacuum conveyor and collecting working table.
● Over-width working size. 3m, 3.2m, 3.4m, 3.5m optional.
● Over-long material continuous cutting. Capable for cutting 20m, 40m or even longer graphics.
● Saving labor. From design to cutting, only need one person to operate.
● Saving material. User-friendly Marker software, saving 7% or more materials.
● Simplify the process. Multiple use for one machine: cutting fabrics from roll to pieces, marking number on pieces, and drilling (small holes), etc.
Description of Cutting Overlong Marker
After software nesting, sometimes the design is very long, that is longer than the machine table. Golden Laser cutting software will divide the design into several suitable and biggest parts based one pattern, and the length of different parts is a little shorter than that of machine table. Then laser machine with conveyor table and auto feeding system will cut one part by one part continuously.
Laser Cutting Advantage
● Smooth, cleaning cutting edge, no reworking necessary
● No fraying of fabric, no deformation of fabric
● Automated production process with conveyor and feeding systems
● Simple production via a PC design program
● Complete extraction and filtering of the cutting emissions
Large Format CO2 Flatbed Laser Cutting Machine 126" x 315" (3.2m x 8m)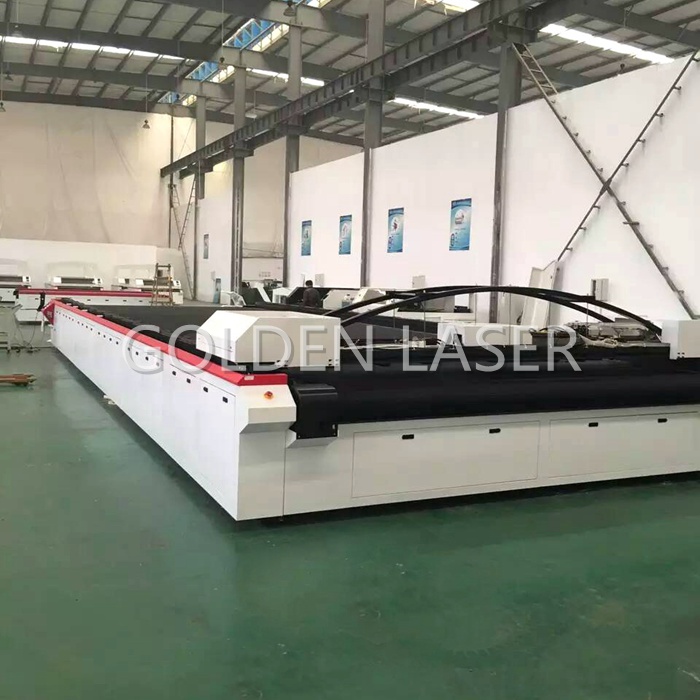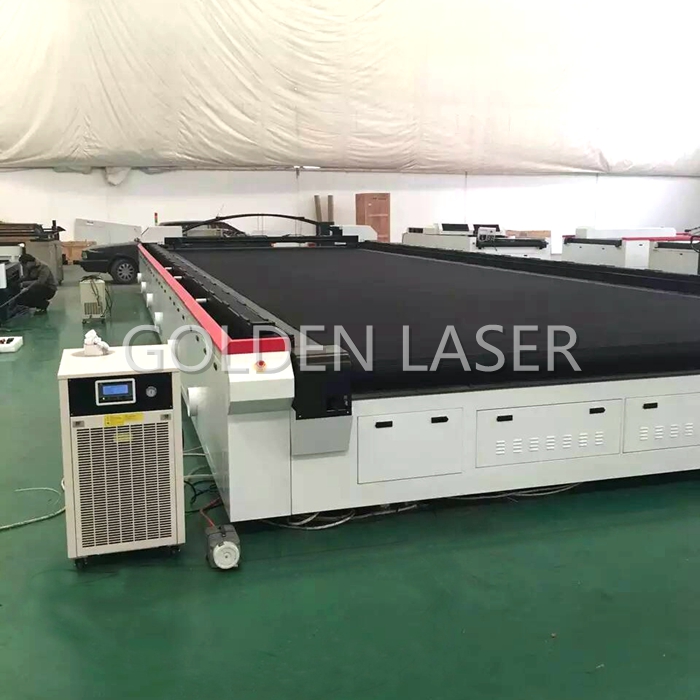 Laser Cutting Machine Technical Parameters
| | |
| --- | --- |
| Model | CJG-320800LD |
| Cutting Area | 3200mm x 8000mm (126" x 315") |
| Laser Power | 150W CO2 R. F. metal tube |
| Working table | Vacuum absorb conveyor working table |
| Working speed | 0 - 48000mm / min |
| Control system | Servo motor, 5 inch display |
| Cooling mode | Water chiller cooling system |
| Power supply | AC220V ± 5% / 50Hz |
| Positioning Accuracy | ±0.1mm |
| Software Support File | BMP, AI, PLT, DST, DXF |
(CO2 RF metal laser sources with different laser power are optional to install for cutting different thickness or speed demand.)
In the Processing of Laser Cutting and After Cutting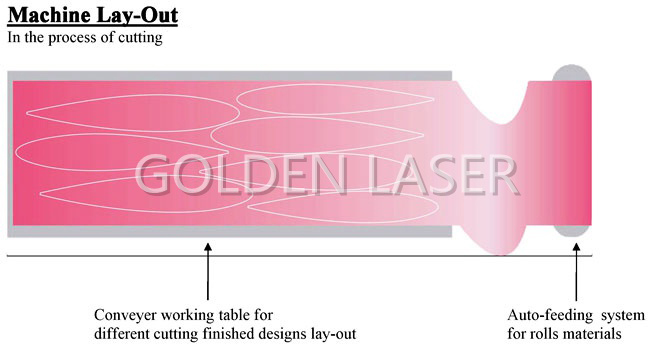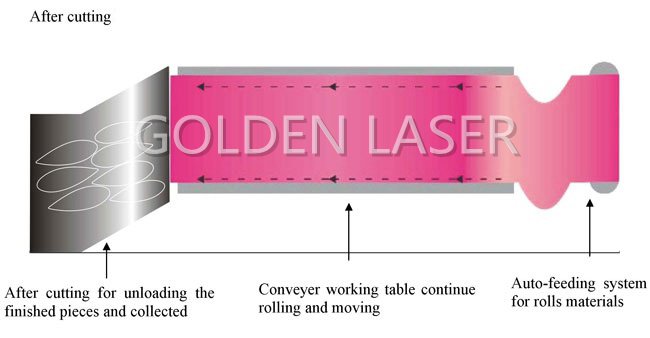 The vacuum absorption working table has the largest strength for absorb the material close to the table and to be flatted; exhaust system for taking away the smoke with pollution circumstance.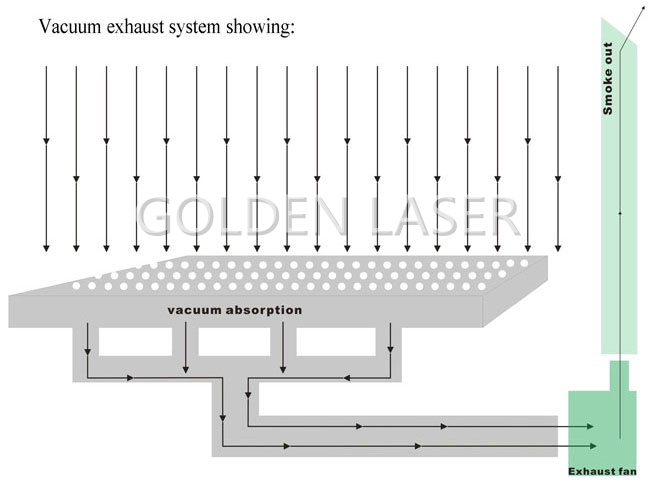 Conveyor working table
› It can process extra length material, and do the continuous processing for material in roll.
› It makes sure the maximum plainness and the lowest reflectivity.
› If equipped with the auto-feeder, it can achieve full automatic processing.
Auto feeder
› Automatic feeding system, rectify deviations automatically.
Laser Cutting Machine Application Field
Applicable to tent, awning, marquee, canopy, sailcloth, parachute, paraglider, parasail, inflatable castle ,sunshade, umbrella, soft signage, rubber boat, fire balloon, etc.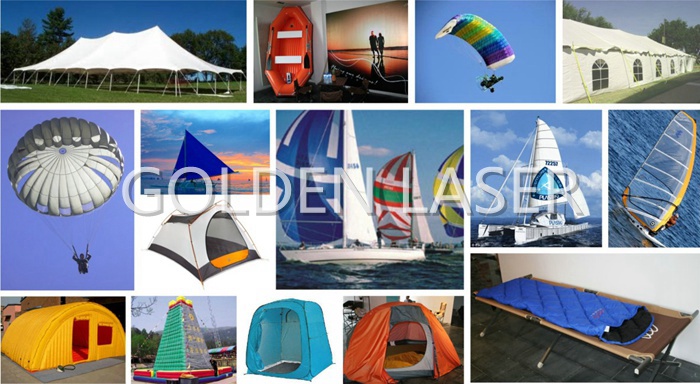 Suitable for cutting PVC, polyester, nylon, PVC fabric, Oxford fabric, polyamide fabric, Tarpaulin, canvas, PVC tarpaulin, PE tarpaulins, tarp, PVC membrane structure, polyamide, polypropylene, nonwoven, ripstop fabrics, Lycra, Mesh, EVA sponge, acrylic fabric, ETFE, PTFE, PE, vinyl, etc.
Laser Cutting Industrial Fabrics Sample